Helsinki Airport expansion in a nutshell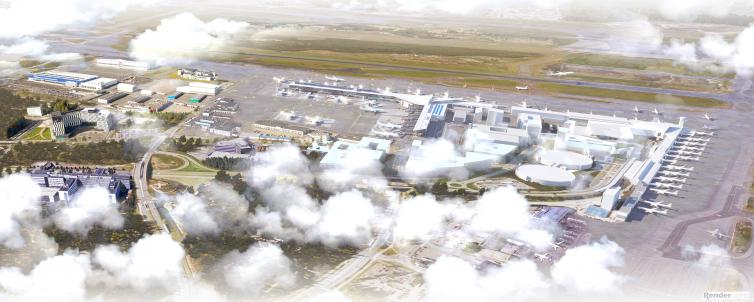 45 % more area to the terminal: the terminal will be expanded by a total of 103,000 square metres. It corresponds to an area the size of the Linnanmäki amusement park in Helsinki. The total area of the terminal in the early 2020s will be more than 250,000 square metres. Then, the terminal could accommodate 10 Finnish Parliament Houses.
100 % addition of bridge gates for wide-body aircraft: the number of bridge gates for WBA will be doubled from 8 to 16.
50 % increase in baggage handling capacity.
50 % increase in passport control capacity.
450,000 square metres of renovated apron, or the aircraft parking areas and taxiways: the size of the construction site is equal to 90 football pitches.
A multimodal travel centre, which links together different modes of transport, will be completed at the airport.
1 billion euro investment by Finavia.
The terminal will expand in several directions
Map: Helsinki Airport and its services are being enhanced in different areas of the airport. Finavia's development programme that began in 2014 will extend until the early 2020s.
The expansion of the terminal section serving long-haul traffic, or non-Schengen traffic, and the expansion of the apron. This expansion consists of four new sections: South Pier, West Pier, Plaza and Border Control. Furthermore, several new parking stands for wide-body and narrow-body aircraft will be constructed, as well as taxiways and other infrastructure serving air traffic.
The development of the Schengen area at the airport (Terminal 1). The extension will be built on the far end of Terminal 1.
Expansion of Terminal 2 (T2). This expansion consists of a completely new entrance with arrivals and departure halls, arrangements for public transport, and an extended area serving traffic to and from Europe, or the Schengen area traffic.
Design focuses on developing the customer experience
Helsinki Airport's strengths include short transfer times, friendly staff and innovative world-class services. We want to maintain these strengths even as passenger numbers grow.
We are expanding the airport under a concept known as "one roof". This means the new services can be accommodated in a single building, under one roof. Distances will remain short, services easily accessible and passengers will find it easy to attend to their business.
When all operations are under a single roof, transfer travelling will also benefit in the best possible way. Moving from one gate to another will be easy and swift as there is no need to change terminals. Digital services are central to outlining the concept of the new services.
The planning of passenger areas takes account of Finnish materials and decor solutions. Various light and sound landscapes lend the lounges the quality of a genuine experience.
Read more about why Finavia is investing in the expansion of Helsinki Airport
This is how the development programme will proceed
2013–2015
Finavia's development programme began with the launching of overall planning in 2013. In 2014 and 2015, we carried out preparatory work, such as the demolition and expansion of old buildings. We extended the security control and check-in area in Terminal 2. The expansion work of the terminal began with the construction of the South Pier in early 2016.
2016
More passenger facilities were added to the terminal already in June 2016, as a new lounge featuring a maritime and archipelago theme was opened. These expansions increased the terminal's floor area by 3,000 square metres. Twelve new departure gates serve passengers waiting for bus transfers to connect them with a non-Schengen-area flight. Read more.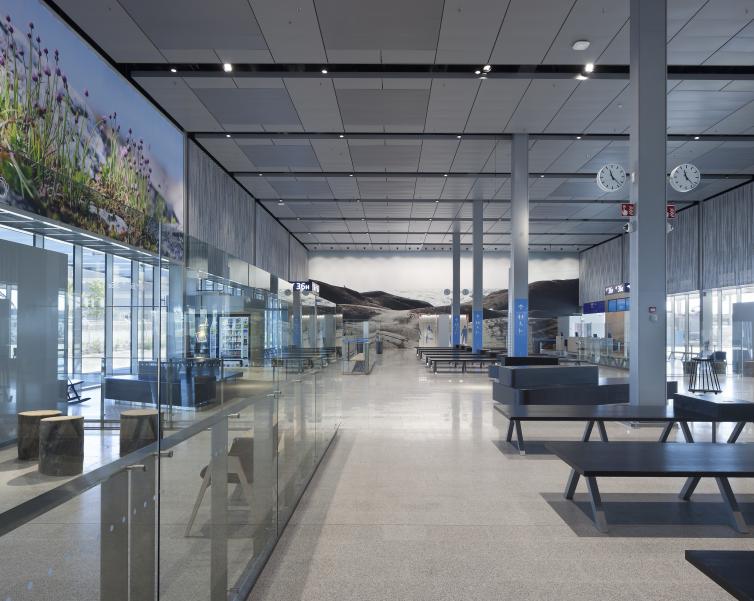 Image: Helsinki Airport's new departure gate area 50 A–M opened in June.
In August 2016, we opened an expansion to indoor car park P5. We added two new stories and an expansion to the original building. These expansions added 3,000 new parking spaces to the facility. Read more.
 A further project to deliver new air traffic infrastructure was completed in October 2016 including a modern engine test site, taxiway AM-AH and maintenance hub. Read more.
2017
The first significant milestone of the development programme was reached in July 2017 with the opening of the South Pier furnished with Finnish classics for passenger traffic.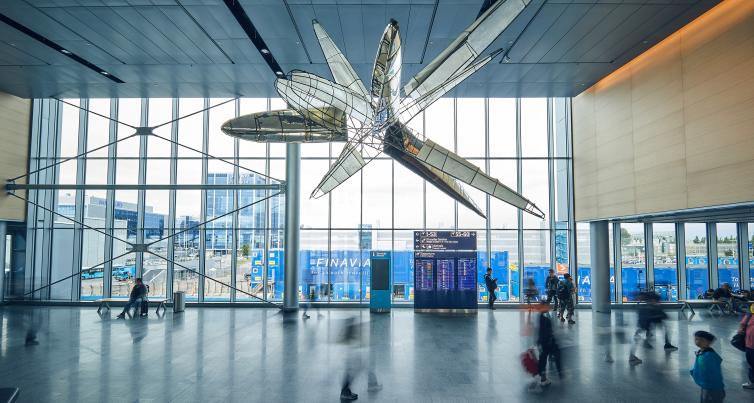 Image: Helsinki Airport's South Pier opened in July.
The South Pier, built as an extension to the current gate 53 (formerly gate 38), includes 7,850 square metres of new space for passengers in two stores, one for arrivals, the other for departures. In connection to this, we put into service Finland's first moving walkway and three brand new passenger boarding bridges for wide-body aircraft, built in a form known as double bridges. This will speed up boarding and add to passenger comfort.
The area of the renovated apron covers a total of 157,000 square metres. We opened two new bridge gates and two outdoor parking spaces for wide-body aircraft. Read more.
The first section of a solar power plant to be built on the roof of the extension was also made operational in July 2017. Read more.
2019
In February 2019 a large central square Aukio, the heart of the entire expansion, was opened between the South and West Pier.
Aukio is an impressive space in terms of architecture. Decorated with Finnish wood, its rugged wall and ceiling structures set an imposing stage for many kinds of events and phenomena. Security control for transfer passengers, shops, restaurants and services providing passengers with a true experience are located around it. A passage to the South Pier for arriving passengers is also now open along with 25,000 square meters of new passenger and baggage space.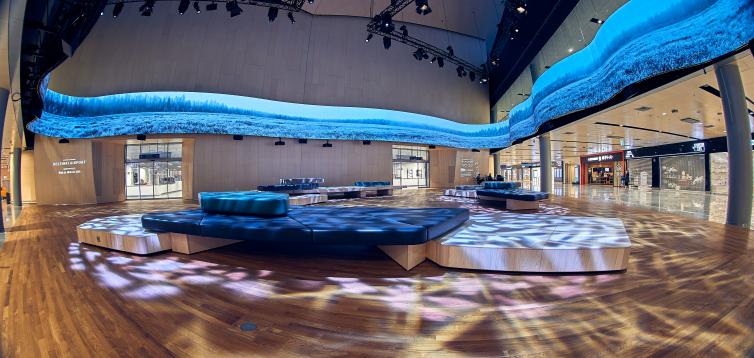 Image: The event square is an essential part of Aukio. There travellers can be one with the Finnish nature and experience its soothing and refreshing influence.  The four seasons will caress all senses through immersive space experience.
In April 2019 Terminal 1 extension part was opened. It has ca. 3,500 square meters of more space and seven new departure gates. Passenger space is very comfortable to enhance customer experience. New departure gates optimize the use of aircraft and speeds up the aircraft turnaround time.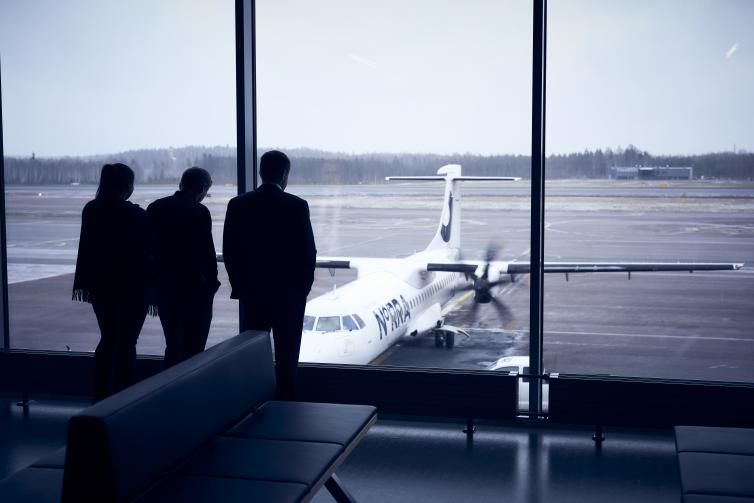 Image: The new extension part for Terminal 1 will serve passengers with domestic and Schengen flights. Travellers have a great view to the runway through the large glass walls.
In May 2019 West Pier's first part opened with bridge gates for wide-body aircraft and new services.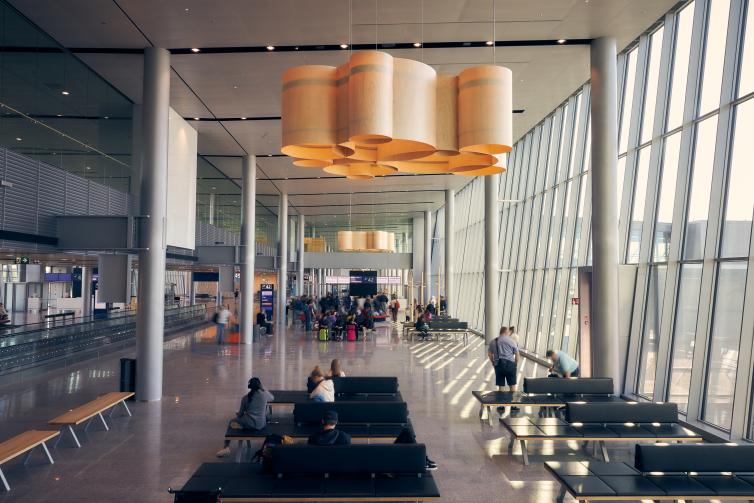 In July 2019, the expansion of the border controls at Helsinki Airport was opened. The new area includes around 2,400 square meters of more space – which makes it three times larger than before. There are now 50 new automated passport control machines in use. The new space and passport control machines guarantee a quick and smooth border control for passengers. Helsinki Airport now has the most advanced passport control in northern Europe. 
In March-December 2019 the second part of West Pier is completed. 
2020-2022
A new, stunning entrance to Helsinki Airport will be opened when the current Terminal 2 will be expanded to cover the area currently used for parking and public transport.
Illustration: The beautiful new Helsinki Airport entrance with new departure and arrival halls is to be opened in 2021.
The expansion will significantly increase the terminal's facilities available for check-in, security control and baggage drop services, and enhance current arrangements for parking and public transport. The expansion will also house a multimodal travel centre that will present us with opportunities to develop enhanced connections between the airport and other modes of transport.
The current arrivals and departure halls will be renewed and, following this renovation, they will be made part or the gate area reserved for flights to and from Europe. The expansion of Terminal 2 will begin after summer 2018 at the earliest. According to the preliminary plan, the entire project will be completed during 2022. Read more.
In 2020 near Terminal 2 there will be a new parking garage with 1,800 parking spaces.
In 2021 Helsinki Airport will have new main entrance, new departure and arrival halls and new security control area.
In 2022 the current check-in and baggage drop have had a complete transformation and are part of Schengen gate area.
The building and inauguration of the new spaces, the launching of new services and the improvement of travel as a whole will take place in stages. The development programme will be split into smaller phases in order to enable flexible reaction to changes in the market situation. The content, cost and schedules will be made more accurate as the planning progresses.
Finavia's Development Programme partners
The entire expansion of the long-haul area was designed by the architects' office PES-Architects. The terminal construction project is the responsibility of YIT, while the apron will be renovated by Destia.
The expansion of terminal 2 and the new entrance to the airport was designed by the architects office ALA Architects. The working group also included HKP Architects and Ramboll Finland. SRV was also selected to participate in the alliance project of the alteration work.
Multimodal travel centre
The multimodal travel centre is a visionary project. Finavia has received a total of EUR 2.25 million of EU funding for the planning phase and EUR 7.38 for the realisation.