The street atmosphere of New York was easily grasped in Terminal 2's Aukio, which was transformed into a place for festivities. One could jump into a yellow cab and virtually drive the streets of New York. There was of course also live music and dance performances at the event, as DJ's and street dancers gave their best. 
Everyone could also practice their basketball skills, ask for a caricature drawing of themselves or to take a glitter-tattoo.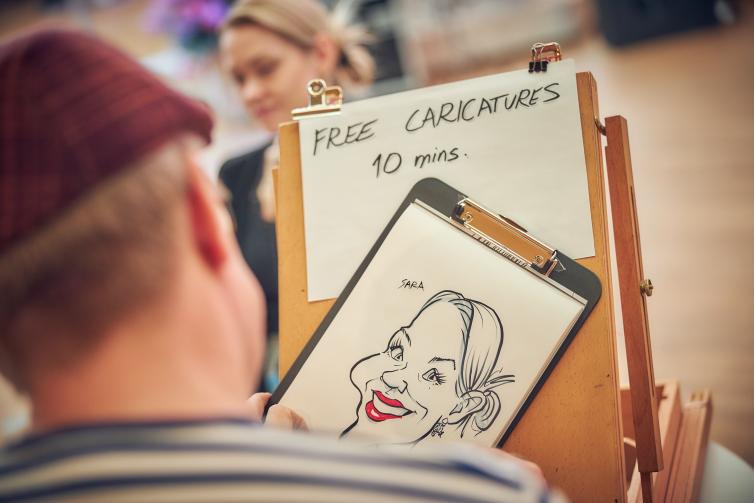 Caricature artist found different features on the faces of passengers.
The flight to America across the Atlantic in the summer 1969 was a great moment for Finnair. It was something so big that they wanted to have particular quality in their products and service.  
The DC-8- aircraft named after famous athlete Paavo Nurmi and composer Jean Sibelius were equipped with the latest technology. Known Finnish designers were used in selecting the unique tableware and the outfits for the staff.
The food as well had to be of highest quality: servings included abundant amount of caviar and the plane also had a bar for the first class passengers.
Besides the usual cabin crew, the flights also had so called Finn Hostesses. They told about Finland to foreign passengers and gave personal service to passengers. Space theme was evident in their outfits, as it was fashionable at the time. The outfits were finished with silvery mink hats!  
Read more about the history of Finnish aviation in the 60's.