The Happy Collection summer campaign is spreading the world-renowned Finnish happiness at Helsinki Airport over the summer months. In addition to bringing joy to travellers, the campaign aims to introduce passengers to the wide selection of restaurants, cafés and shops at Helsinki Airport.
The Happy Food Market, which is open at Aukio, brings the campaign even closer to passengers by providing complimentary Finnish berries and treats from the airport's restaurants from 31 July to 4 August 2019. Helsinki Airport's commercial operators SSP Finland and HMSHost are taking part in the event by treating passengers to culinary delights from their restaurants. Jamie's Deli, Nordic Kitchen and Moomin Coffee are among the restaurants providing samples for the event.
Good mood and Finnish experiences at Aukio
On a busy afternoon, the treats on offer spark a lot of curiosity. The small portions include delicacies like reindeer meat, chocolate brownies with fresh berries and smoothies. Passengers arriving from Non-Schengen countries compliment the flavours and the beautiful portions served in ecological dishes.
Mike and Vanessa, a couple travelling from India to Croatia, got a change to taste reindeer for the first time: "This is awesome!" Inspired by the new flavours the couple plans to spend their two-hour layover getting to know the restaurants better – first a reindeer dish at Nordic Kitchen followed by a dessert at Moomin Coffee.
The Happy Food Market offers something for passengers of all ages. There is a picnic table with colouring pages and coloured pencils reserved for the little travellers. According to the kids who are concentrating on their artwork, the best portion at the food market is the Moomin pancake with apple jam.
The decorated central plaza Aukio has also received great feedback from passengers. Fatboy bean bags, that were brought to the plaza for the Happy Food Market, provide a relaxed setting for enjoying the summer treats.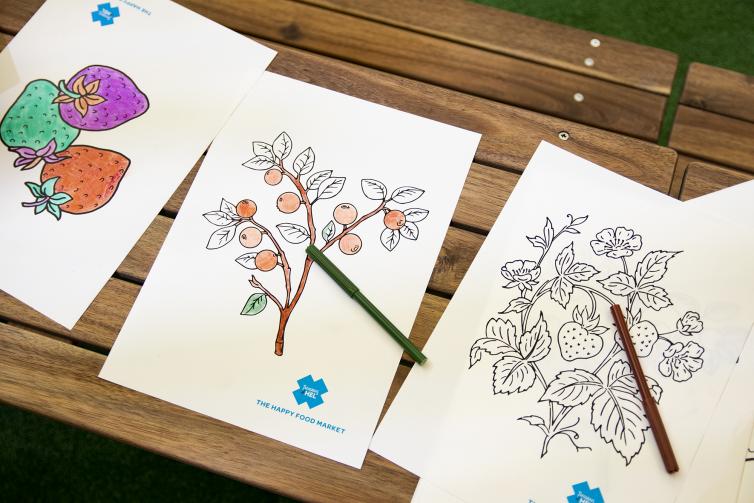 The Happy Food Market event takes place at Helsinki Airport's Aukio central plaza from 31 July to 4 August 2019 every day from 12pm to 5pm.