With the latest development programme, Finavia's investment in Lapland's tourism industry in the next few years will increase to nearly EUR 100 million.
Finavia's goal is to improve customer experience at its airports in Lapland, increase the service level and capacity as well as secure safe traffic for the increasing flight and passenger volumes.
Part of the investments were used for environmental protection. Finavia made the recovery of the glycol used in aircraft de-icing more efficient and can thereby continuously decrease the environmental impact of air traffic.
Rovaniemi Airport's passenger terminal

expansion
Finavia carried out a massive expansion at Rovaniemi Airport. Passenger facilities expanded over 75 %, from 6,000 to 10,500 square metres. The new facilities make the terminal more spacious and comfortable, and the service offering also increased. Modern passenger facilities were added to the baggage reclaim area and other areas, and the café area was quadrupled in size.
The airport's hourly capacity increased from three planes to five planes. A new passenger boarding bridge that makes boarding faster was installed in the terminal which means that currently Rovaniemi Airport has three passenger boarding bridges.
Read more: The renewal of the official airport of Santa Claus
Investments at Kittilä Airport
During 2018 and 2019, Finavia considerably expanded both the terminal and the air traffic infrastructure at Kittilä Airport. The expansion added a total of 2,000 square metres of new space to the terminal.
Because of the investments, service level improved significantly. The new facilities include services such as a second café and children's play area. New space was also added to the passport control for arriving passengers.
Finavia increased the capacity and smoothness of air traffic by building two new taxiways: a short one and a long one. In addition, the number of aircraft stands was increased from six to 12.
Read more: Expanded Kittilä Airport welcomes travellers to Lapland.
In 2020, Finavia will invest more than EUR 5 million in the development of Kittilä Airport. The additional investment will increase baggage handling capacity and smoothen the check-in process. The new parts of the terminal are scheduled to serve customers in the winter season 2020-2021. Read more about the additional investment.
The development of Ivalo Airport
At Ivalo Airport, Finavia invested to new aircraft stands and the expansion of terminal spaces.
The number of aircraft stands nearly doubled the aircraft parking capacity and thus increased the smoothness of air traffic.
Passenger facilities expanded by 1,000 square metres. The new baggage claim hall freed up space for the whole terminal, thus making the space more comfortable.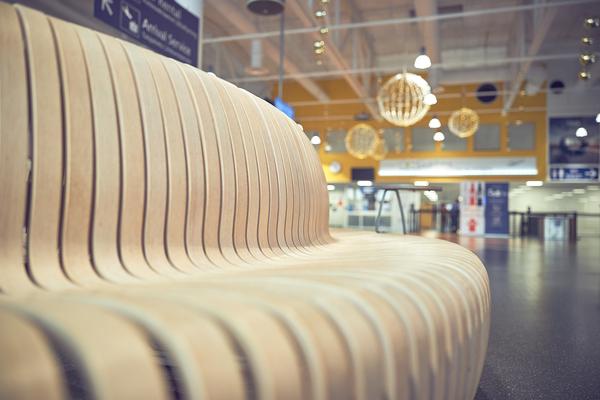 Read More: The northernmost airport in Finland is expanding
Finavia's development programmes and investments in recent years