- For many passengers, Helsinki Airport is their first or only contact with Finland. We want to introduce all our passengers to our country, whether they stayed here for a week or only 30 minutes. With our theme buses it will not only be smooth, but surely memorable, ride from the airplane to the terminal, says Katja Siberg, Vice President of Marketing and Business Development at Finavia.
"We want to introduce all our passengers to our country."
The airport's first theme buses introduce passengers the Finnish national composer Jean Sibelius, Finnish sauna and Formula 1, all very dear to the Finns.
- No matter whom you ask about Finland, the answer almost always includes sauna. Sauna is such a fundamental part of the Finnish identity and culture that it had to be part of this theme bus concept. Jean Sibelius, again, doesn't need much introduction. We wanted to dedicate one bus to Finland's national composer, says Siberg.
The Formula 1 bus, too, has earned its place among Finland-themed buses.
- Finns are a motor sports nation. Finnish Formula 1 and rally drivers have conquered the Monaco Grand Prix and rally roads of Sahara. Kimi Räikkönen and Mika Häkkinen are among the most famous Finns in the world. Thus, the Formula 1 bus has really earned its place among the theme buses, Siberg continues.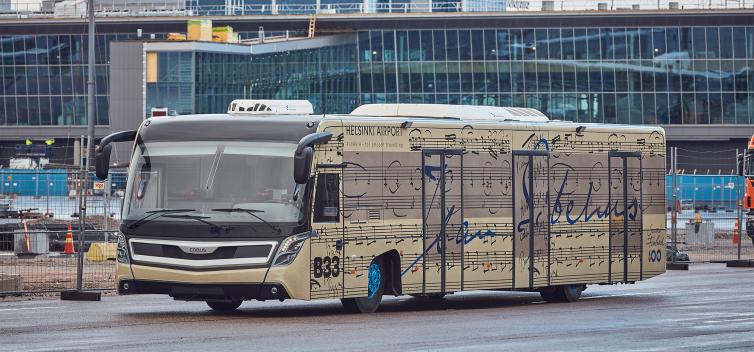 Finavia's Sibelius bus honours the Finnish national composer, Jean Sibelius, at Helsinki Airport.
Finavia introduces other theme buses during the year. Their themes will be revealed further on.
- That much I can hint that there will be positive surprises at least for music lovers, Siberg reveals.
Finland 100 festivities around the year
Finland 100 anniversary is displayed at Finavia airports year-round.
Centenary celebrations began in January at Helsinki Airport with the opening of a new Arctic World of Santa Claus, a space that allows you to see and experience Finland in fifteen minute. It is also a display area for young Finnish artists and upcoming Finnish design brands.
Earlier this week a photography exhibition Flying Nature honoring Finnish nature photography was opened at Helsinki Airport. Near Independence Day departing passengers will get to participate in various festivities.
My Finland – Finland 100 years photo exhibition tours at Finavia's airports around Finland. In addition, shops and restaurants at the airports will offer Piece of Finland products – traditional Finnish products, such as rye bread or salted liquorice.
Smooth air traffic supports Finland's competitiveness
Air traffic employs, either directly or indirectly, about 100,000 people in Finland.
Finavia's ongoing development programme at Helsinki Airport serves to expand the airport. Terminal expansion and the resulting growth in capacity will allow Helsinki Airport to serve 20 million annual passengers in 2020. The first part of the extension, so called south wing, will be opened for air traffic in July 2017.
Smooth air traffic is important to the society in Finland. It supports economic growth and provides possibilities for success in international markets. In addition, air traffic has a significant employing effect: it employs, either directly or indirectly, about 100,000 people in Finland.
Finavia's development programme is estimated to create 5,000 new permanent jobs.