2019 – "The Groke flight" receives a water salute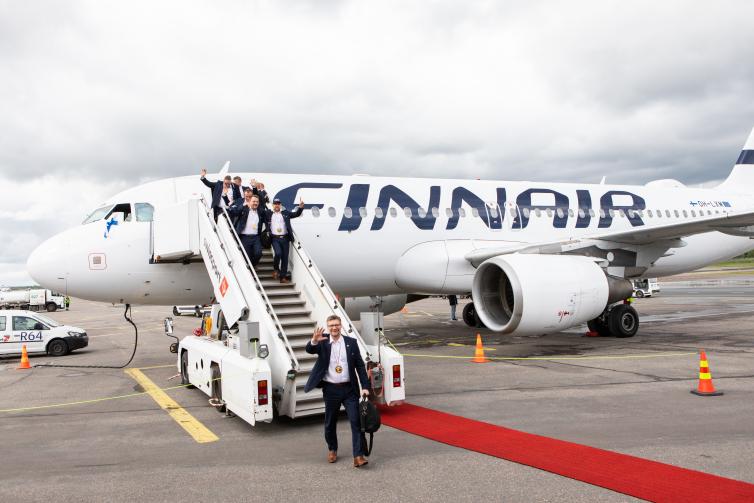 After winning the ice hockey world championships in May, the Lions arrived at Helsinki Airport escorted by Hawk fighter jets. The flight – nicknamed "the Groke flight" after team captain Marko "the Groke" Anttila –landed in Finland on May 27th. Helsinki Airport welcomed the new world champions by organising a water salute. An official congratulatory ceremony was held at the airport together with the team's own celebrations.  
The gold medal team was welcomed by loved ones and members of the press at the airport's VIP terminal.  
At the request of the police, crowds of fans were not waiting outside the terminal, but instead gathered at Kaisaniemi park in Helsinki to celebrate the team.   
2011 – Goalkeeper coach Nurminen fumbles on the red carpet    
In 2011 world championships, one of the most memorable moments was then 19-year-old Mikael Granlund's goal in the semifinals against Russia. He came behind the goal with the puck and cradled it in the goal, scoring 1-0 for Finland.  
The plane carrying the new world champions was escorted to Finland by Karelia Air Command's Hornet fighter aircrafts.  The team was welcomed at Helsinki Airport by masses of fans.  
The joyous champions stepped out of the airplane to a red carpet, but moving the championship trophy from the plane to the airport did not happen as smoothly as planned. While walking down the airplane's stairs, the Lion team's goalkeeper coach Pasi Nurminen tripped on the last step, fell and hit his head on the championship trophy.  
Luckily, this did not lead to serious injuries and Nurminen rose from the ground quickly with the help of his teammates. The slippery shoes that caused Pasi Nurminen's infamous fumble at the red carpet are currently available for public viewing at Finland's Ice Hockey Museum in Tampere.  
1995 – Dewey, Huey and Louie celebrate at the airport 
When the Lions won the ice hockey world championship in 1995, Helsinki Airport was filled with thousands of eager fans ready to celebrate Finland's first ice hockey world championship. Timo Jutila, the championship team's captain of the time, and coaches Curt Lindström and Hannu Aravirta carried the trophy through the terminal.  
Many might also recall an image of Saku Koivu, Jere Lehtinen and Ville Peltonen at Helsinki Airport, wearing Dewey, Huey and Louie masks as a reference to their forward line's popular nicknames lifted from Donald Duck cartoons.  
The gold celebration festivities of 1995 were held at Helsinki's Market Square, where roughly one hundred thousand Finns gathered, making it one of the largest mass events in Finnish history. In addition to Helsinki, the world championship gold was celebrated all over Finland in restaurants, homes and streets.  
Sources: yle.fi, iltalehti.fi 
Read more about how the world champions were welcomed at the airport in 2019.